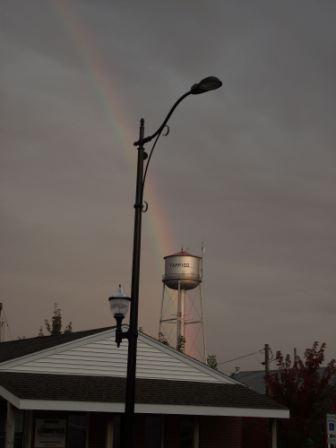 Tampico, IL is a village located in Tampico Township, Whiteside County, Illinois. As of the 2010 census the village had a total population of 790. Ronald Reagan, 40th President of the United States, was born here and lived here during periods of his childhood. Tampico is located about 40 miles east-northeast of Moline, IL and approximately 110 miles west of Chicago, IL.
Our Main Street lighting is one of the first State Routes in Illinois to feature LED lighting. Come see our beautiful poles and the "going green" lighting.
Our businesses and historic sites are here to greet you.
If you are looking for information about the history of Tampico, IL. You can find a lot of things about the history from the Tampico Area Historical Society & Museum website.
The RONALD REAGAN BIRTHPLACE & MUSEUM is open in March, 2015 on Saturdays, 10a-4p & Sundays, 1p-4p
The RONALD REAGAN BIRTHPLACE & MUSEUM is open April-October Monday-Saturday 10a-4p and Sunday 1p-4p
Contact: Joan, 815-622-8705 or Shirley, 815-499-4770 with question and special reservations.